After a rejuvenating night in Cing Jing counting stars over chocolates and instant noodles, we drive over to Hua Lien.
Dusk to Dawn
Before which, the view worth waking up early for.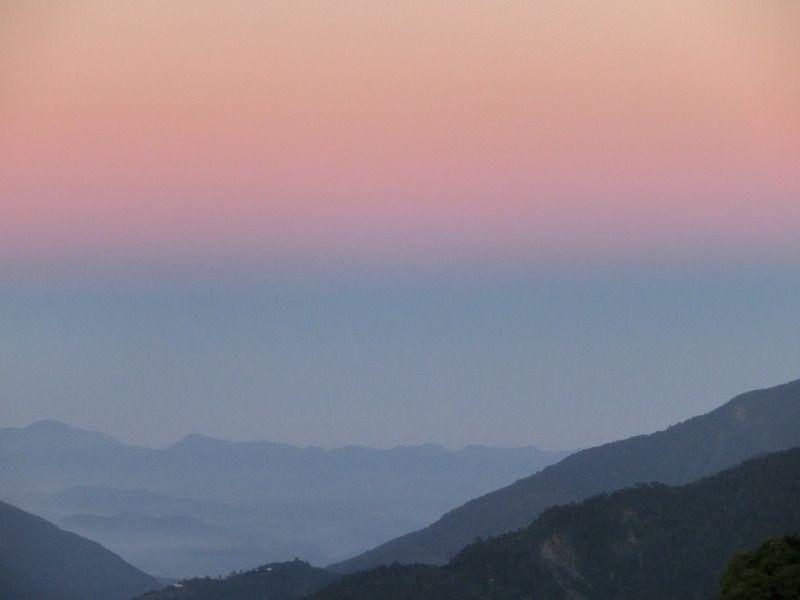 Day View from Starry @ CingJing
The Simple Life
Nephew chilling outside our room with my Ipad while we just hang around enjoying the view and fresh air.
Breakfast Set @ Starry Minsu
The breakfast set are photogenic isn't it so? Love the toast with hot milk tea is Taiwan which taste so good!
Long Ride Ahead!
Looks like we are set for a loooong winding ride across the mountains through Taruko Gorge to Hualien!
Oldest Tree in the Area
Bottoms Up
For some reason there's a blur bubble in the middle of the pic.
Caterpillar
While admiring the tree, we saw a caterpillar
Another Break
Lunch at Tian Xiang, Taroko Gorge
Finally we reach the village of Tian Xiang at Taroko Gorge! We had a late lunch at the shophouse eateries (which didn't taste good despite our famished tummies). Despite the different names, you can order any dish you want no matter which eatery you are in.
Around the Area
We spotted this suspension bridge from afar after lunch and decided to explore the area. Turn out that the bridge is called "普渡桥".
Taroko Pudu Bridge
Xiang De Temple
At the end of the Pudu Bridge, we see the Xiang De temple - a Buddhist temple. If you walked further there's also a tall white robed Guan Yin statue.
Shakadang Trail
This is another hiking trail if you are into hiking. There is around 4 storey of stairs to go down and up.
Eternal Spring Shrine Tour
More Mountains
Famous Central Cross Island Highway
東西横貫公路
And off we go to Hua Lien city for some night market action!
XOXO