Drugstore shopping is one of my favorite hobby
everywhere
I go. Probably obsessed. I. am. Yes. And Japan is also known for their drugstores.
I came across
Don Quijote
while researching for my Japan trip.
Don Quijote is one of the most prominent discount chain store in Japan selling a wide variety of products from beauty and cosmetics to accessories, mobile phone cases
and electronics in their 4 storey building. In particular, I'm drawn to the fact that they sell beauty products and drugstore cosmetics (one whole level of paradise for a beauty junkie!) and contact lens. Contact lens in a discount store?
Don Quijote operates 24 hours a day (just like Ichiran ramen). They are not particularly close to my hotel (Hotel Sunroute Plaza Shinjuku) and will take an approximate 20 min walk. Our usual night activity in Tokyo will be ramen or sushi supper (yes, sinful I know) at 10pm and a walk to Don Quijote to ogle at the impressive range of cosmetics before heading back to hotel at 1am.
And if that's not enough, there is another big beauty
Japanese drugstore
right beside Don Quijote (with the same long opening hours) with as much if not more variety of products - imagine 101 different type of eye drops? So in event if the item you want is out of stock in Don Quijote, there's always another store to fulfill your beauty needs.
That's probably the reason why I survived on 5 hours sleep every day. Thank goodness other stores does not have such insane operating hours or I may not be sleeping at all.
Don Quijite Shinjuku Higashiguchi Honten
In bright day light. We are quite lucky to discover them in the first day of our trip.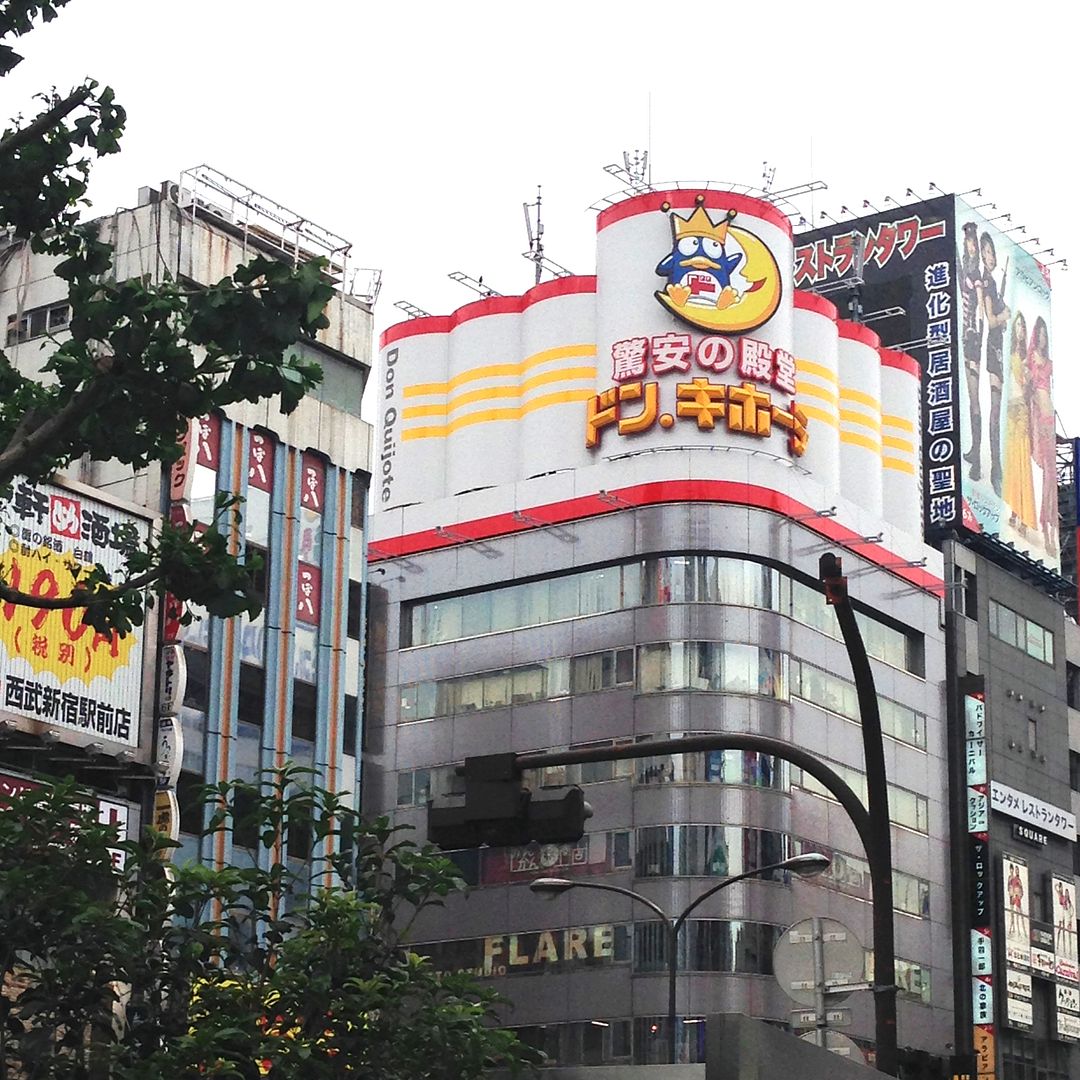 Don Quijote Shinjuku Higashiguchi Honten
Address: 1-16-5 Kabuki-cho, Shinjuku-ku, Tokyo
Access: 5 min. walk from JR Shinjuku Sta. East Exit
Phone: 03-5291-9211
Hours: 24 hours
Holidays: Open all year round
Another store also in Shinjuku;
Don Quijote Shinjuku Store
Address: 1-12-6 Okubo, Shinjuku-ku, Tokyo
Access: 5 min. walk from JR Shin-okubo Sta. 2 min. walk from Tokyo Metro or Oedo Line Higashi Shinjuku Sta. Exit A1
Phone: 03-5292-7411
Hours: 24 hours
Holidays: Open all year round
Contact Lens
Over in Don Quijote, the huge variety of contact lens is mind boggling where you can change your eye color to every color you can imagine and they are quite economically priced too. It's something we don't see in drugstores in Singapore where we can only get contact lens through authorized optometrist.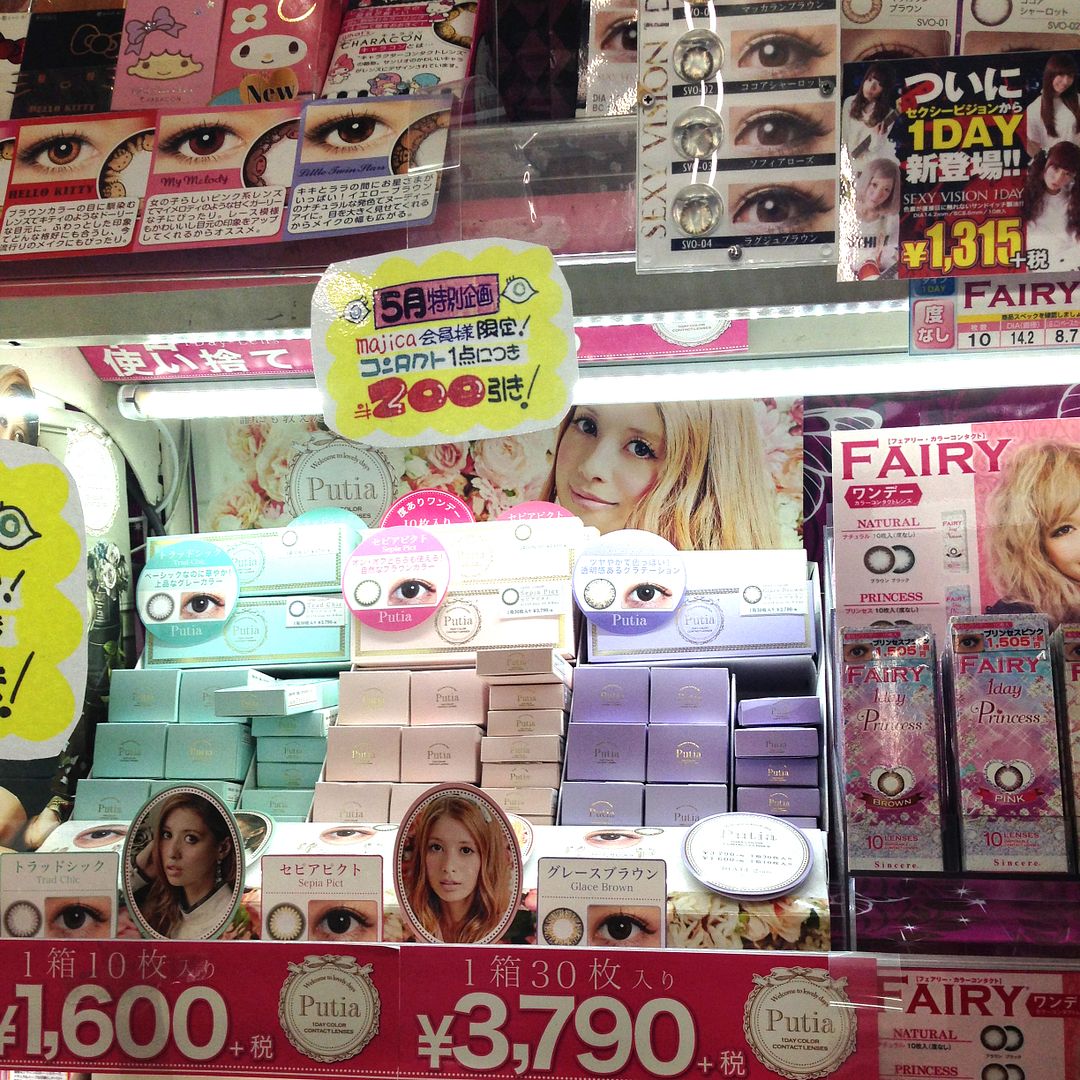 Eye Drops Galore
This the variety of eye drops in one section of the Japanese drugstore beside Don Quijote. These are not repeated.
Drugstore Beauty Loots
Some of my drugstore beauty loots before I packed them (most of them from drugstores, others from departmental stores). I took the chance to stock up on my trusted favorites (lotsa of Rhoto Lycee eye drops, Bifesta makeup remover and Tiss cleansing oil) and only a teeny bit of new products.
That's all folks! Have a lovely weekend!