I always love reading about what anyone pack in their makeup pouch.
I never really thought to blog about it until inspiration struck while I have some free time while getting ready. I quickly rearrange my makeup into less of a mess and snap this pic.
And so - here's what I brought for my recent Bangkok Trip. I do like to pack according to the climate of the country I'm visiting.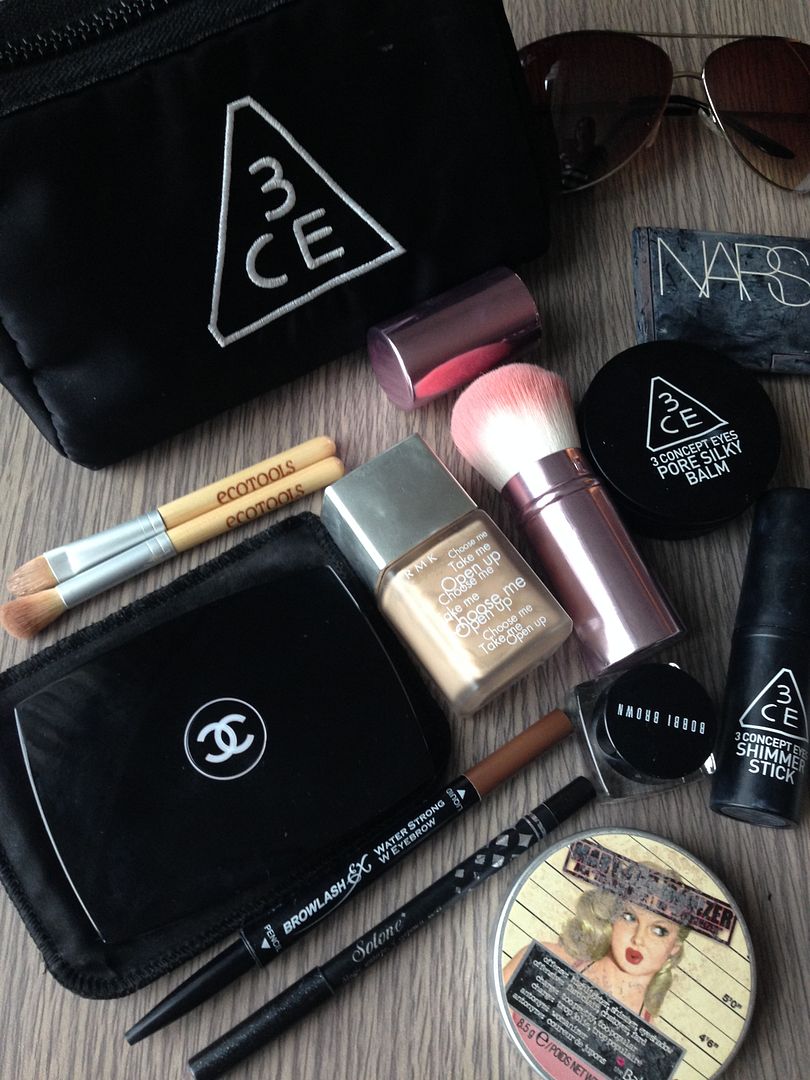 (Clockwise - 3CE makeup pouch, Sunnies, Nars Orgasm Blush, 3CE Pore Silky Balm, 3CE Shimmer Stick in Pink, Pink Blush Brush, Bobbi Brown Cream Eyeshadow, RMK Liquid foundation, Ecotool travel brushes, Chanel Mat Lumiere Compact, Browlash Ex Eyebrow pencil, Solone Eyeliner & theBalm Mary Loumanizer)
My makeup pouch of choice is from 3 Concept Eyes (3CE). This is their "small" smaller sized makeup pouch but it's so roomy that all my products in the picture fit into the pouch and somehow retain it's shape.
While I'm at it, 3CE does have many good quality and affordable products. Their pore silky balm had been a staple in my routine since I got it 3 months ago and hands down my favorite base ever. This gem creates a moisturizing and long lasting smooth base for my makeup that last the whole day even with the 35 degrees Celsius Bangkok weather and yet didn't leave my face feeling like Sahara desert at the end of the day. If it's not a winner, I don't know what is. The best part - there's a niffy applicator that allows you to scoop up the amount you need on the back of your hand to warm up the product before applying to your face. My tub last for more than 4 months too.
And next is the 3CE Shimmer Stick. 3CE has amazing highlighting products. I heart their highlight beam (dupe for Benefit's High Beam) but their shimmer stick (dupe for Benefit Watt's up) is my choice for travelling. It pack in more shimmers than the beam - and the trick is to warm it up with your finger tips and dab (somehow it needs warming up just like the pore silky balm). Their shimmer stick is available in two shades - peach or pink but it's pink for my neutral skin tone anytime. Did I mention that it's great for decollete too?
Rain
dear did a good review on 3CE products, check it out if you are keen to know more.
Nars Orgasm blush is one of my favorite blush. Great quality and long lasting. I am not really a fan of the dust magnet rubber packaging but it does it's job well protecting my blush from breaking. It goes on sheer, smooth and never chalky and it's so hard to go wrong with especially for the very pale.
Some tools are essential - such as a concealer brush, blending brush and blush brush and I not-so-secretly wishes for more of these tools come in mini or travel sizes like those from Ecotools. The metallic pink retractable blush brush from Cosmed in Taiwan is a surprise find - it comes with cute white bristles with pink edges, gives a polished finished look and doesn't shed and feels so soft.
Powder compact is invented for makeup-on-the-rush without meddling with liquid foundation. And for the case for this trip - Chanel's compact has a really wide and bright mirror is a saver when the hotel mirrors are placed in (gasp!) dimly warm lighted corner.
And last but not least - the essential holiday item - sunglasses. Even if all else fails and you want to look cool in your holiday pictures - this does the trick pronto. But seriously, the bright glaring sunlight can be extremely unforgiving to folks with ultra sensitive eyes and therefore causing headache (like me), thus I always need to have one close to me.
That's all lovelies! Tata!