As part of our ramen hunt for the best ramen in Singapore, we check out Santouka Hokkaido Ramen, located at Orchard Cuppage Terrace smacked in the middle of Centrepoint and OG shopping centre.
Special Gyoza
Santouka has 2 type of gyozas - the chicken gyoza and the special gyoza which is is pork based and somehow priced higher. Though we had yet to try the chicken gyoza, their special pork gyoza is simply
divine
. The juice from the meat in the gyoza will squirt out as you bite into it - just like "小龙包" (the Taiwanese famous soup dumpling which oozes soup with every bite). The best gyoza in Singapore I've ever tried. Highly recommended.
Tokusen Toroniku (Special Roasted Pork Cheek)
Their roasted pork cheek are juicy, chewy and flavorful. It has both the smoothness of melted butter and the chewy bite. The dish is served roasted over lighted candles. Like their special pork gyoza, this is definitely not to be missed!
Chashu Ramen with Kara Miso - Small
I ordered their Chashu Ramen with choice of Kara Miso broth - which is the only spicy option available (The other being Shio, Shoyu and Miso). The broth may look scarily spicy in this picture but it's quite acceptable to me and definitely not overly spicy by normal Singaporean standard and you will still able to taste the sweetness of the pork based broth. Their chashu are lean and flavorful and the noodles were springy and just right. Their ramen dishes come in 3 sizes - small, medium and large for all appetites and we opt for the smallest size in order to try other dishes.
Shoyu Ramen - Small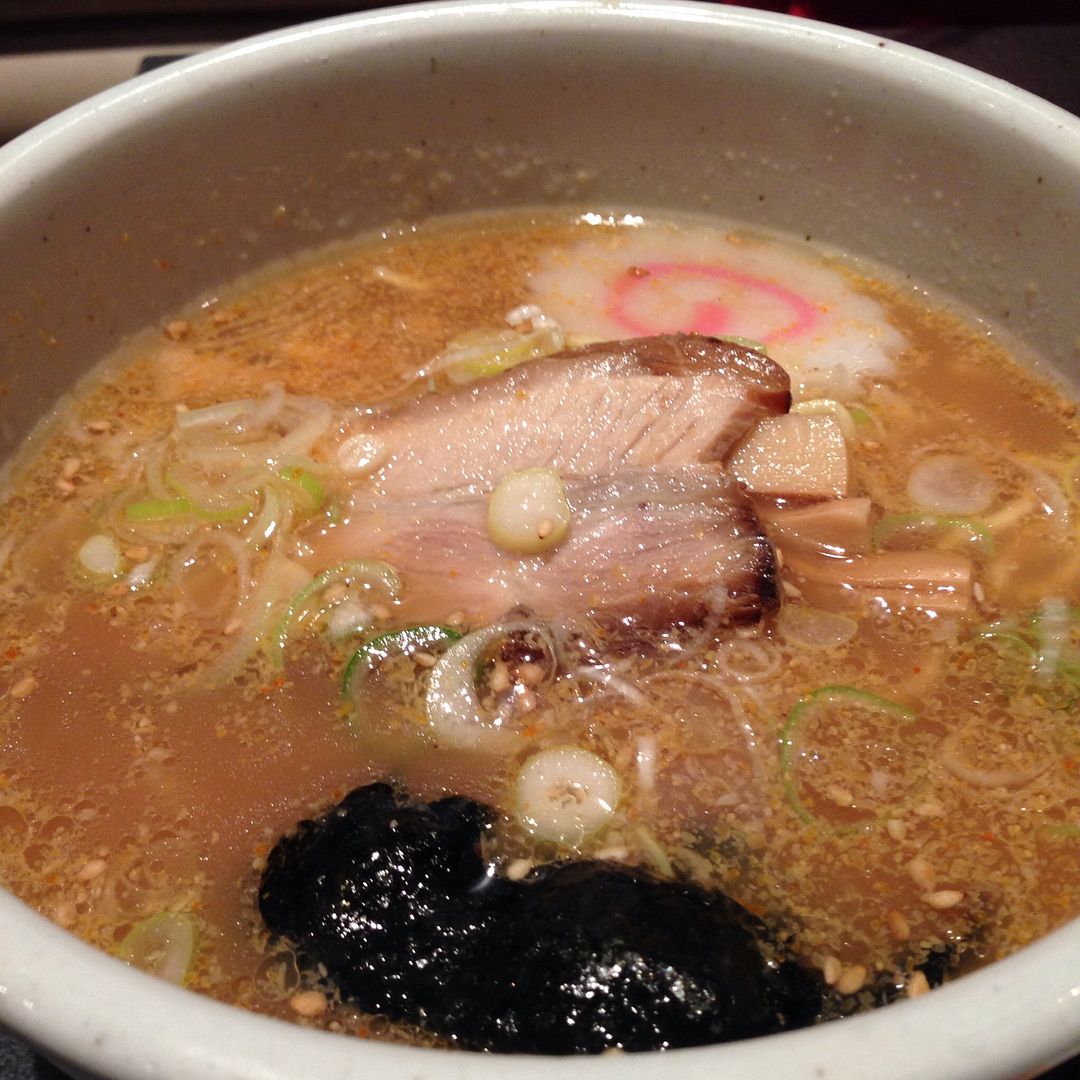 Ajitsuke Hanjuku Tamago Flavored Egg
Flavored eggs is a must for ramen, and so it's no surprise that we added one each. It's so good that we are definitely not sharing.
The restaurant is small and a little squeezy but they have a bigger outdoor dining area. Be prepared to wait if you are coming in for dinner, and reservations is a must especially for dinner time or if you have a big group of more than 2. When we were leaving the restaurant at 7.30pm, the queue were a few metres long. Customer service is prompt and good, and needless say, their sides dishes are of high quality as well as their signature ramen dishes. This is definitely one of the best ramen restaurant in town.
Hokkaido Ramen Santouka (Orchard Cuppage Terrace)
21 Cuppage Road
Cuppage Terrace
Tel: 6235 1059
Opening Hours: Mon to Fri 12pm - 3pm, 530pm - 12am
Sat 12pm - 12am
Sun 12pm - 930pm
From online, it appears that they have another branch in The Central at Clarke Quay too.
Have a great weekend!