Edae is our favourite shopping place for my trip that we actually went there twice in our 7 days trip. That's basically saying alot. We like the shopping variety, the overall quieter neighbourhood/ campus atmosphere and the many cafes.
Exit 2 from the subway brings you directly to to Ewha Women's University through the shopping areas.
Some of the flowers blooming along the sidewalk
One of the BBQ chicken stall along the roadside
And I bought a BBQ chicken stick from one of the vendors. I requested for slightly spicy version and the vendor did sprinkle lesser chilli powder but it's still.. S.P.I.C.Y.! But very nice!
Self pic
View of Edae from the entrance
We didn't went into the university since it's quite some walk in, and we look too much like shopaholics with our shopping bags rather than school students.
De Chocolate Coffee Cafe Edae
The only Korean drama which I watched this year (and quite like it) was 'That Winter, The Wind Blow'. When I was watching the show, I did made a mental note that I need to try to find and visit the cafe shown in the show during my trip but completely forgotten about that in my planning.
By a nice coincidence, we decided that we need to rest our hands, legs and shopping bags and were looking for Starbucks before we saw De Chocolate outlet at the strategic location just outside the entrance Edae. It's also accessible by walking 10 mins from Exit 3 of the subway station.
Views along Exit 3
De Chocolate Coffee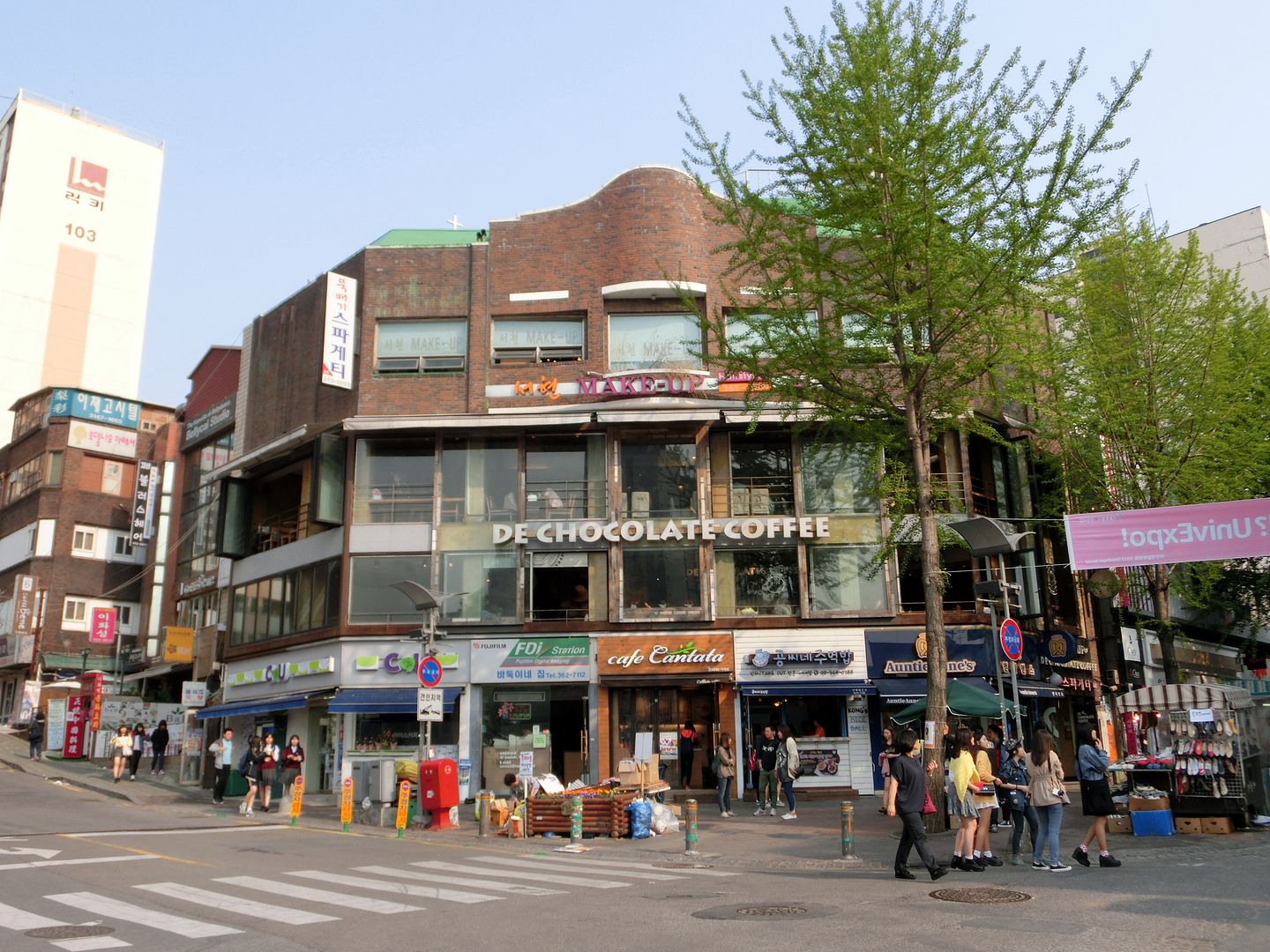 The cafe is located in level 2 and 3 of the building.
We settle for the cozy window seats in level 2. There are more seats and a section for smokers in level 3 too.
The view from the 2nd floor windows.
View from the cafe
We ordered the hot caramel mocha and waffles the first time round and love it.
Personally, I love the fact that the cafe provides a cup holder for every drink regardless whether it's a hot/cold beverage. Even for cold beverages, I do not like my hands cold or wet from the condensation around the cup.
I'm impressed by the Barista's attention to details. For the ice blended beverages, the barista remove the plastic packaging partially from the straw to insert to the cup and yet ensuring that the other end of the straw is still covered with the plastic packaging - for the drinker to remove the last part of the packaging themselves before they drink.
On my last day last minute trip to Watson's in Myeong Dong, I spotted the De Chocolate's instant hot choco and bought a pack back to Singapore. They have a latte version too.
Enjoying my cup of hot coco right now <3